Mywegmansconnect.
Mywegmansconnect.com login, help and answers to frequently asked questions related to your employment at Wegmans.
View your Wegmans schedule, payslips, benefits health plans, change your contact information, and much more.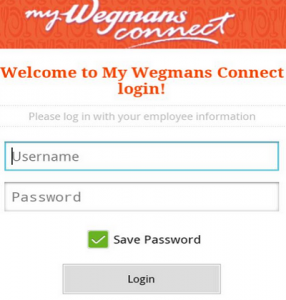 Access the Mywegmansconnect employee portal through the official Mywegmansconnect login page.
Contact the Wegmans HR Department for login issues, W-2 Tax Forms, schedule changes and more.
Learn how to locate your official Mywegmansconnect Username for login, and how to reset your Mywegmansconnect Username and Password.
About Wegmans.
Wegmans is a chain of American supermarkets, owned by Wegmans Food Markets, Inc. and founded in 1916. Today, the company has around 50,000 employees across around 100 locations, with its headquarters in Rochester, New York. Wegmans has also been consistently ranked by Fortune as one of the best companies to work for in the United States.
The Mywegmansconnect.com Portal.
Mywegmansconnect is an online portal, aimed at Wegmans employees. It is available 24 hours a day, seven days a week and can be found at: http://www.mywegmansconnect.com.
The employee portal previously had a branded login page, but after a security enhancement, it now re-directs to a login.microsoftonline.com sign in page. For several years, the login URL was: https://wegmans.sharepoint.com, but that address should also now re-direct to the more up-to-date Microsoft-branded login page instead.
Mywegmansconnect Advantages.
What can I use the My Wegmans Connect Employee Portal For?
The Mywegmansconnect Employee Portal resembles many other web-based staff self-service platforms, offering you access to important information related to your employment and the company itself, while also allowing you to update personal details and get in touch with the human resources department.
If you are a Wegmans employee, you will be able to login to the platform and access your work schedule and view current and past pay slips or wage statements. You can also make adjustments to the way you are paid, see the most recent company news, manage your employee benefits, change your contact information and apply for new roles.
Mywegmansconnect Login.
How do I Log in to my Wegmans employee account?
To sign in to your Mywegmansconnect account, go to the main login page at: www.mywegmansconnect.com and you should be automatically re-directed to the new Microsoft Wegmans employee login page.
From there, you will need to enter your Employee ID, complete with the "@wegmans.com" suffix and click the 'Next' button.
Then, enter your password for the service and click 'Next' again. Assuming you entered the login credentials correctly, you should be taken to the main dashboard for your account.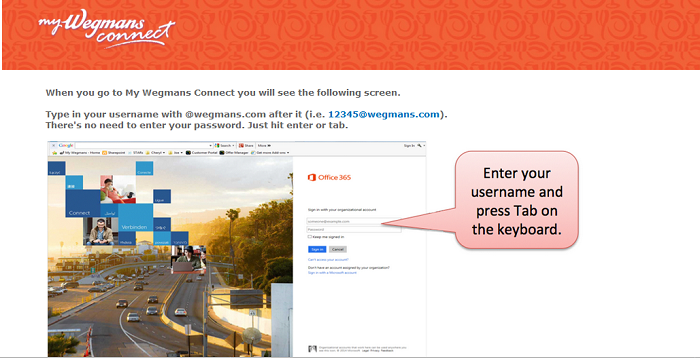 It is also worth noting that there is a separate Wegman Schedule Login page. If you are using a desktop or laptop, head to: https://schedule.mywegmansconnect.com/wfm/EmpLoginFull
Mywegmansconnect.com Login – Mobile.
On the other hand, if you are using your mobile or a tablet, it may be best to opt for the mobile-optimised page, which can be found at: https://schedule.mywegmansconnect.com/wfm/EmpLoginMobile
With this form, all you need to do is enter your username and password in the fields provided and then click 'Login'.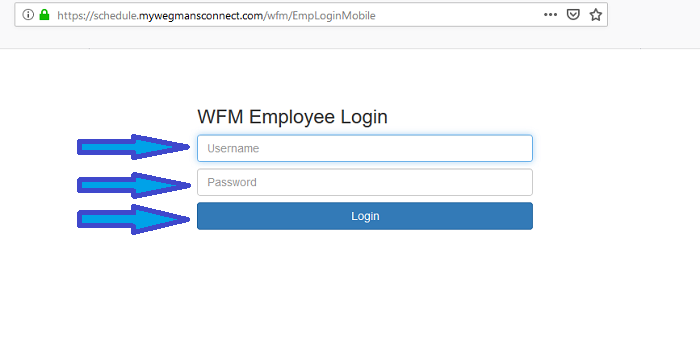 Register For a Mywegmansconnect Account.
How do I sign up for a My Wegmans Connect account, or recover an existing account?
To actually register your account, go to the main login page at: Mywegmansconnect.com and click on the link labelled 'Can't Access Your Account?'. Next, you will be asked what type of account you need help with, with the options being 'Work or School Account' and 'Personal Account'. Select 'Work or School Account'.
You will then have the option to register your User ID and password for future use with the platform. Once this part of the process is complete, you will be fully signed up and able to access your Mywegmansconnect account.
Mywegmansconnect Login Problems.
I can't sign in to Mywegmansconnect. What could the problem be?
In rare instances, Wegmans employees may run into difficulties when attempting to access the online employee portal. Generally, these problems fall into a few common areas and all have simple solutions. However, for those who are unsure about the precise cause, it is best to work through the following steps.
If you are a new user attempting to log in for the first time, you should make sure you have taken the time to register your account in the way described above. You also need to make sure you are using the right login page, which should consist of a Microsoft-branded login form. This is accessible from: www.mywegmansconnect.com
The next step is to check that your wi-fi and internet connections are actually working. A simple way to test this is to refresh the page you are on, or to try to load a different website. If you are unable to load other pages, the problem is likely to be with your connection, rather than with the online portal itself.
Assuming you have registered your account and your connections are definitely working, the next step is to check that you have definitely entered your login credentials correctly. Typing errors can be difficult to spot, especially in the password field, so it may be a good idea to delete what you have typed and re-enter your username and password.
Remember, your password is case sensitive, so needs to be entered in precisely the way it was when you chose it. For this reason, you need to double check that the CAPS LOCK function is set to 'OFF' on your keyboard. If you copy and paste your username and password, make sure you have not accidentally copied a space at the beginning or end.
Finally, check for problems with either your browser or device. Make sure you are using the latest version of your web browser and try clearing browsing data and cookies before trying again.
If you have access to another computer, tablet or phone, try and sign in using that instead, as this will indicate whether your device is the problem.
I Have Forgotten My Mywegmansconnect Password.
How can I reset my Wegmans employee password?
If you have lost or forgotten your password, you can recover it through the platform itself. Go to the main login page at: http://www.mywegmansconnect.com and click on the link labelled 'Can't Access Your Account?' then enter your User ID in the field provided. You may also need to solve a CAPTCHA code for security purposes.
From there, simply follow the instructions provided and you will be able to reset your password to something more memorable. This will then be your password for all future use of the service.
Alternatively, the old password reset page is still available at:
https://schedule.mywegmansconnect.com/wfm/action/action/action/resetPassword?portal=EMPLOYEE
If you are using this method, enter your User ID in the field labelled 'Username', click on the 'Continue' button underneath and then follow the instructions provided to reset your account.
I Have Forgotten My Mywegmansconnect Username.
How do I recover My User ID?
Although there is no username recovery function with the platform itself, your User ID is simply your Wegmans employee email address, so will resemble: [email protected]
If you are unable to remember your email address, the best solution would be to go and speak to the HR department or your manager and they should be able to find it for you.
Mywegmansconnect Schedule.
How do I view my Wegmans Schedule online?
To view your schedule, you should log in to the employee portal in the usual way and follow the links provided.
If you are having difficulties locating it, if the online schedule does not appear to be up-to-date, or if you need to know your schedule for further into the future than what it displayed, it may be best to call your manager.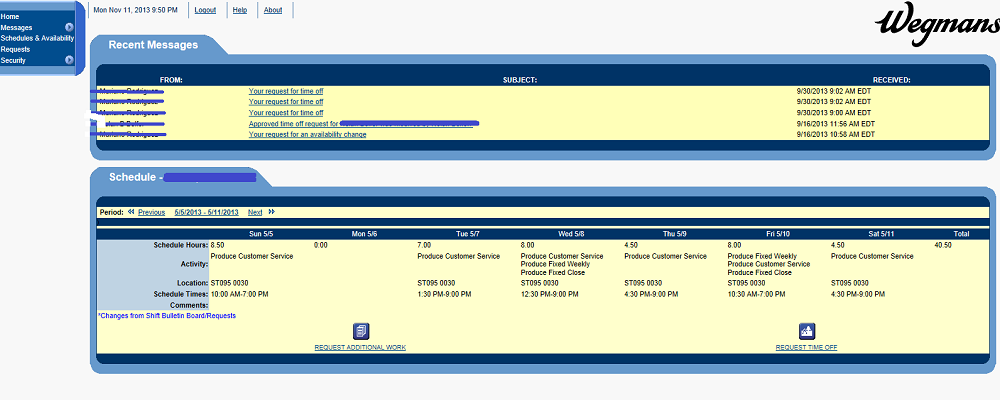 Mywegmansconnect Wage Statements/Payslips.
How do I view my Wegmans payslips?
The best option for viewing your wage statements is to use the following URL to log in:
https://schedule.mywegmansconnect.com/wfm/EmpLoginFull
With this method, you should use the same User ID and password as you would with the main login page.
Wegmans Careers – How Can I Apply For a Job?
If you are not currently a Wegmans employee but are interested in applying for a job, you should go to the separate Wegmans Careers website, which can be found at: https://jobs.wegmans.com/,
From there, you can use the 'Job Search' function to find the ideal role for you. There is even an option to connect your LinkedIn profile to the website, in order to find the best possible job match for your circumstances.
Alternatively, you can search for jobs by going to: https://wegmans.wd1.myworkdayjobs.com/en-US/Wegmans/
With this option, all of the available jobs should be listed and you can use the filters provided to narrow down your search. Once you find a suitable role, click on it and then click on the 'Apply' button.
Follow the instructions and make sure you provide all of the information requested during the application process.
Wegmans Benefits.
What benefits and perks are offered to Wegmans employees?
Wegmans offer a full range of employee benefits to staff, with one of the most significant being health coverage. This is provided to both full-time and part-time employees via two different health plans: A classic PPO option, or a HSP plan.
Dental coverage is also on offer for full-time employees.
Some of the other benefits include a 401(k) retirement savings plan, life insurance coverage, regularly scheduled pay increases and a range of employee development schemes.
Personal Paid Time Off.
Medical expenses: Wegmans wilñ pay 85 percent of an employee's medical expenses. The medical reimbursement plan makes it easier for Wegmans employees to get medical treatments.
Employees can also benefit from discounts on cinema tickets, premium pay for working Sundays or official holidays, and child or elder care assistance.
You can learn more about the various benefits on offer by clicking here.
How Much Does a Wegmans Job Pay?
The hourly pay for a Wegmans employee is typically between $9 and $14. Yearly salaries start from around $16,000 and go all the way up to $50,000 for the most senior staff members. The average pay for a cashier or customer service assistant ranges from $9 to $12 per hour, while front end managers average more than $25,000 per year.
Wegmans Contact Information.
How do I contact the Wegmans company?
You can contact the Wegmans headquarters via telephone by calling: 1-800-934-6267.
This number is available from Monday to Friday between 8 am and 7 pm EST, and on Saturdays and Sundays between 8 am and 5pm EST.
The extension to use for the customer service department is ext. 4760. However, if your call is related to recruitment, you should use ext. 8500-3119 instead.
If you would prefer to contact the headquarters by mail, the address to use is: Wegmans Food Markets, Inc., 1500 Brooks Avenue, PO Box 30844, Rochester, NY 14603-0844.
Recruitment-related emails can be sent to: [email protected]
For other matters, you can use the online email form, which can be found by clicking here.
Other Resources.
UK Login:
Thank You!